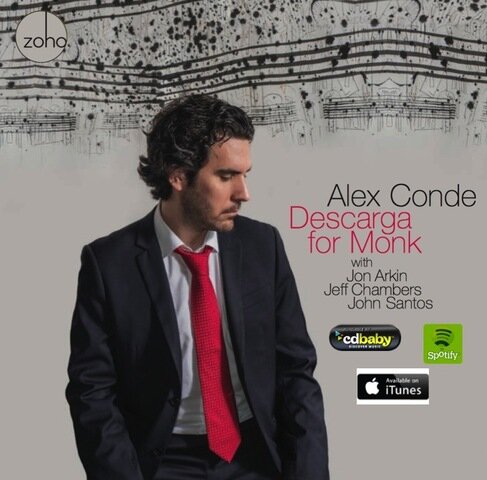 ALEX CONDE PIANO JAZZ FLAMENCO

A benefit concert for La Peña Community Chorus' 2017 Cuba Goodwill Tour!

Saturday April 30th, 4:00
2439 Delmer St
Oakland, CA

$25 suggested donation
refreshments
RSVP to ngendel@pacbel.net
or
(510) 845-5161
60 seat limit!
Doors open at 3:30


NEWS!
You can purchase now my book ''Tres obras para piano flamenco'' piano scores, which includes:

-Vas diciendole a la gente (Bulerias)
-Barrio del Carmen (Alegrias)
-Plaza de la virgen (fandangos)

Email me at alexcondejazz@gmail.com requesting it!

ORIGINAL ARRANGEMENTS OF THELONIOUS MONK'S COMPOSITIONS
AN EXCITING BLEND LATIN & SWING RHYTHMS
WITH JON ARKIN (Drums), JEFF CHAMBERS (Bass) & JOHN SANTOS (Latin percussion)

RELEASED THROUGH ZOHO MUSIC FEBRUARY 2015

For Future Performances, See SHOWS Inside

RAVE REVIEWS!

''Gifted Spanish pianist and ZOHO label artist Alex Conde, has his way with the high priest of bop in an adventurous all-Monk program.'' - Jazz Critic BILL MILKOWSKI

''... [Alex's] Thelonious Monk is rock solid. Its rhapsodic elegance is informed by all of the mystery and majesty of Monkish-ness. The elemental irreverence of Monk-music has been mastered by the young Spaniard. He worships at the altar of originality, as Thelonious Monk did, pouring his twisting duende into molten chords. His phrases make for lines that erupt with volcanic brilliance and a viscosity that is unlike anything that has been sung of Thelonious Monk in a very long time." - RAUL DA GAMA, LATIN JAZZ NETWORK

Conde is an excellent pianist who would command attention playing anything, and I look forward to hearing him play his own compositions. But for any lover of Monk or Latin music this is an irresistible combination, with the added spice of a unique Flamenco flavor. MARK SULLIVAN, @ALLABOUTJAZZ

"Alex reinvents Monk's music with his remarkably flexible, highly interactive rhythm tandem of Chambers and Arkin while showcasing his impeccable technique, remarkable chops and fertile imagination along the way... " - JAZZTIME

Thanks for Visiting

QUE VIVA EL ARTE!